Several Reunions have been held in the recent past to allow the men who served on the USS Terror to renew their friendships and exchange stories no one wants to see forgotten. Unfortunately as far as I know no further Reunions have been scheduled.
2011
The 2011 Reunion was held in San Antonio, TX on May 4th to 8th. 2011
2008
The 28th Reunion was held in Monroe, Michigan on Sept. 21st to 25th. 2008
2007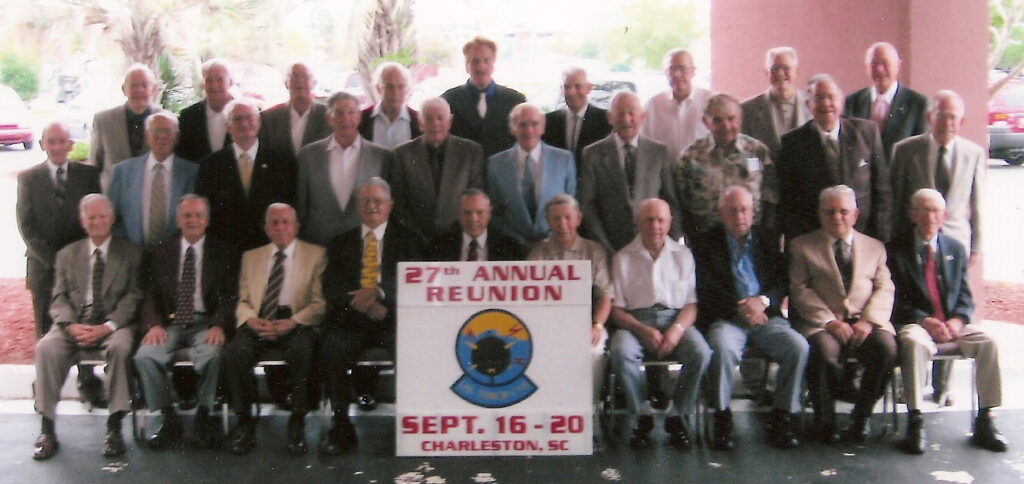 Click here for background and a report
The 27th Reunion was held at Charleston, South Carolina September 16-20, 2007.
2006
The 26th Reunion was held in Annapolis, Maryland.
2005
The 25th Reunion was held in Salt Lake City, UT in September, 2005 and was hosted by Charles Jones. Click here for the details and a report with photos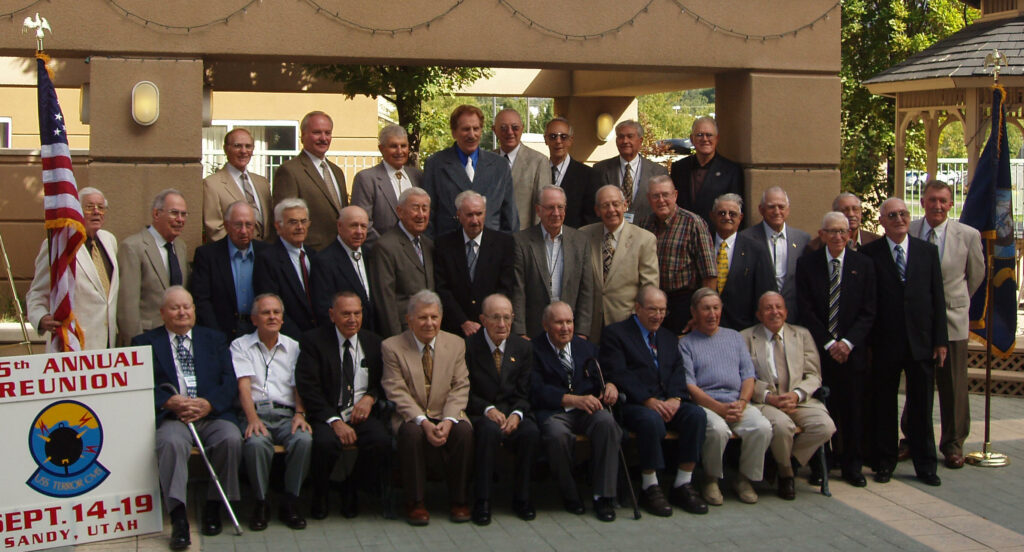 2004
Fred and Sue Bartlett hosted the 24th reunion in Oklahoma City, Oklahoma September 15-19, 2004. It was a great success.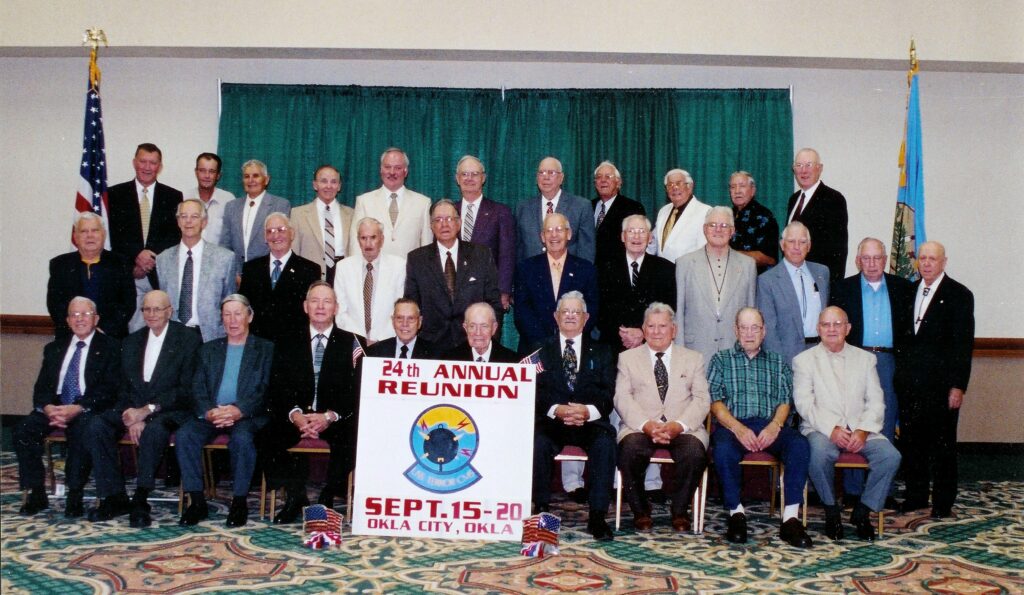 1st Row (left to right): Nicholas Marra, Victor Blume, Fred Reid, Mac Macomber, Fred Barlett, Charles Jones, Wood Beeghly, Gene Kwasny, John Eddleman, Olympic Barson
2nd Row (left to right): Emil Gelatko, Don Travis, Bob Smick, Ed Walsh, Audrey Hogan, Bob Brewer, Joe Fitzgerald, Herschel Thomas, Theo Yates, Allie Ryan, Jim Weber
3rd Row (left to right): Palmer Yates (son of Theo), Roger Blume (son of Victor), Charles Dreith, Ray Gierut, Raymond Gierut (son of Ray), Lawrence Van Fossen, Austin Ross, Kenneth Pope, James Mulligan, Jim Bush, Ed Leonard
2003
Austin Ross hosted the 23rd reunion in the Milpitas, California September 5-9, 2003. More info to come later. Eighty people were in attendance
2002
Roger and Margaret Stillpass hosted the 22nd reunion in the St. Louis area in September,2002.
2001
Reunion 2001 Report (12/2001)
Reunion 2001 Photos (12/2001)
Gene and Terry Kwasny hosted The 21st reunion in the Chicago area on September 11-15, 2001. It was held at the Holiday Inn Countryside 6201 Joliet Road Countryside, IL 60525. Holiday Inn Phone (708)-354-4200
2000
Ed and Marcelle Wolfe hosted a Caribbean Cruise in August, 2000 aboard the Royal Caribbean cruise ship "Majesty of the Sea". Here is a group shot from the ship. (click on it for the full image)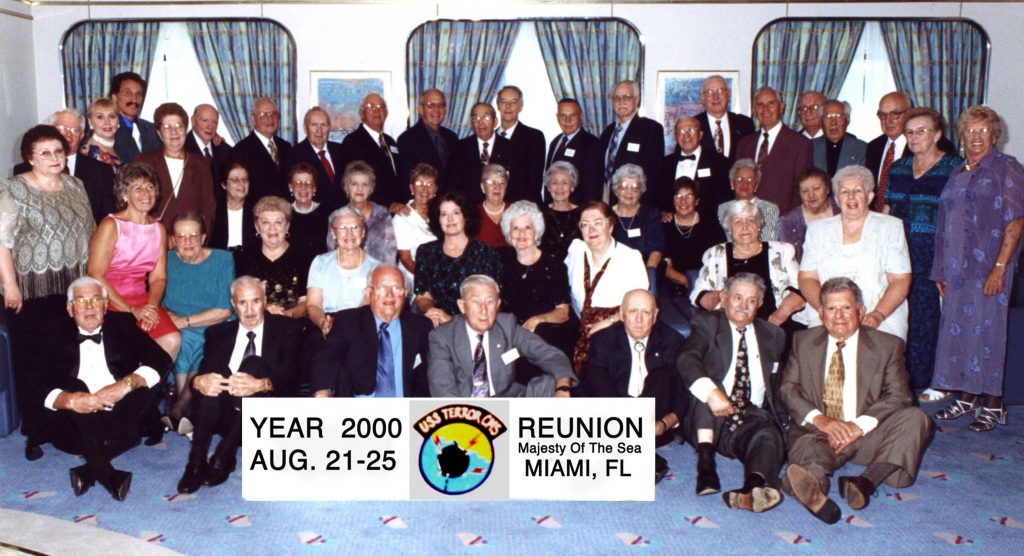 Reunion 2000 Report(new 2/2001)
Original
1999
The 19th reunion was held Sept 16-20 in Cincinnati, OH. The hosts were Bob Wolf and Jeanette Hancock, and it was a nice success. Unfortunately Bob Wolf passed away shortly before the reunion, but Jeanette carried on alone without a hitch. (A report will be posted soon.)
1998
The 18th reunion was Oct 6-10 at the Vacations Inn (now Radisson I think), San Diego. The organizer was Tom Kisic. Anyone who has more information about what happened can forward it to Colin Ringleib and it will be posted here.